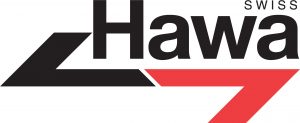 HAWA VARIOTEC 150/GV
The principle
HAWA-Variotec 150/GV is the king of cornering among the sliding hardware systems. The modular, plugable track system follows your blueprint around every twist and bend. Sliding revolving doors and sliding swinging doors can be integrated at any desired point. A complete installation is a pleasure to behold, with an aesthetically shaped glass retainer profile that blends in with any nearby colour. This slding hardware system is balm for the ears, too – the high quality trolleys with two-point guide wheels are incredibly quiet-running.
The benefits
–   Perfect cornering technology with a modular track system that allows changes of direction from 15 to 90 deg.
–   Top tracks and bottom guide channels can be bent to customer specifications for unusual layouts.
–   Trolleys with two-point guide wheels for excellent running characteristics for door weighs from 70 to 150kg.
–   All components install out of sight in the glass retainer profile.
–   Installable with and without a bottom guide channel.
–   Compact stacking area.
–   Extensive accessories like seals, glass edge protection profiles, security locks, stationary glass, etc.
Product Images