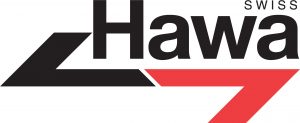 HAWA VARIOTEC 150/GR
The principle
HAWA-Variotec 150/GR is the ideal hardware solution for installation that enhance security and rigidity. The elegant frame profile with just 24mm visible width reduces glass bowing and makes it difficult to force open doors weighing up to 150kg. Yet despite such exemplary robustness, you still have the same gentle running characteristics, excellently engineered curve technique and unequalled flexibility that are the hallmarks of all HAWA- Variotec sliding hardware. Draught-proof brush/rubber seals also make HAWA-Variotec 150/GR the solution of choice for the effective isolation of air-conditioned rooms or unheated conservatories.
The benefits
–   Visually pleasing frame system with minimum visible width for doors up to 3.5 m tall and weighing up to 150 kg.
–   Strong rigidity, enhanced security and protection for glass edges.
–   Perfect cornering technology with a modular track system that allows changes of direction from 15 to 90 deg.
–   No glass cut out require.
–   Top tracks and bottom guide channels can be bent to customer specifications for unusual layouts.
–   Trolleys with two-point guide wheels for excellent running characteristics.
–   Integrated brush/rubber seals to stop draughts.