GILGEN STW 2
Maximum flexibility in room design
The Gilgen automatic sliding wall provides a simple, convenient way to divide open indoor areas.
Multiple configuration possibilities
The transparency of the closed sliding wall adds an air of ample elegance to the divided rooms.
Convertible Room Design
There is a constant growing demand for improved floor space usage. Showrooms, conference rooms, companies schools and hotels all require greater flexibility in the use of available space. The objective is to optimise the use of this space. The required room volume can now be configured at short notice at the push of a button.
Optimum safety in every situation
Monitored operating sequences and a senstitive obstacle detection system (TÜV tested) guarantee maximum user safety.
The mechanism can be operated manually without difficulty in the event of a power failure.
Intruder resistant components including slimline design
The reinforced wing system, complete with safety glass, full-length bottom guideway and automatic locking mechanism, is designed to ensure efficient break-in prevention. The positive latching of the closed door leaves prevents unauthorised attempts to enter, while still giving the overall system an attractive look.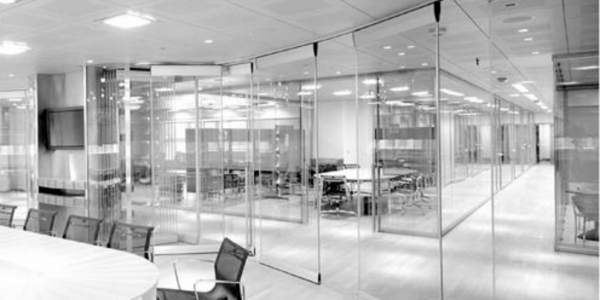 Field of Application
Mains power supply 230 V, 50/60 Hz
Number of leaves per control max. 30 leaves
Length of track rail per control max. 40 m
Leaf width 750 – 1500 mm
Leaf height depending of the leaf weight and leaf width max. 3600 mm
Leaf weight max. 180 kg
Glass P5A (DIN EN 356)