GILGEN PROFILES - SMOKE PROOF / LOW AIR PERMEABILITY
The standard automatic door with an awareness of low air permeability
The elegant Gilgen SLA-PSA sliding door drive system seduces with its slim elevation width and offers a high level of robustness and a reduced air permeability. These advantages are obtained thanks to the intelligent interlocking feature.
Versatile usage
• Delicate-looking profile system
• The vertical leaf interlocking feature offers guaranteed robustness and a protection against draughts
• Low air permeability; tested by CSTB according to EN 1026 (RAPPORT D'ESSAIS N° BV12-481 A+B)
• Simple installation
• The innovative dry-glazing procedure enhances the stability of the door leaf
• Tested overall system
• Increased hygienic aspect
Possible applications
• Single-leaf and bi-parting sliding doors
• With side panels
• Achieve a tight sealing effect at no extra costs, also for public buildings
• Guarantees an efficient and energysaving air conditioning of the building
• Particularly appreciated for hospital applications
• Thanks to the high degree of transparence and the delicate profiles, this door is the optimal solution for integration into any architectural design
• Fixed point guide
• Suitable for both internal and external use
• Standard locking-system built into the drive mechanism
• Can be attached to the door lintel or wall
The multi-functional Gilgen SLA-PSA sliding door system is especially well-suited for applications in hospitals or public buildings. The reduced air permeability guarantees an efficient and energy-saving air conditioning of the building.
Product Images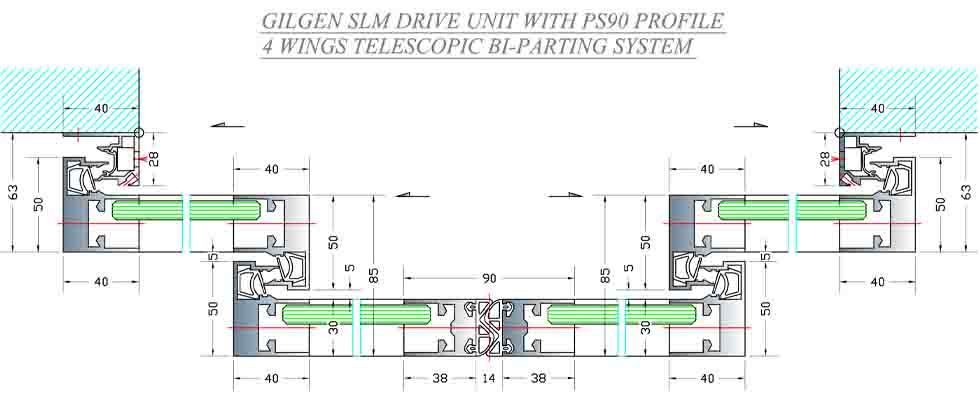 PS 90 – Smoke Proof Profiles